Remember a while back I had a couple of posts on my
dyeing adventures
? And I had selected some
fibres to spin
during a weekend... Well, I don' t know about you but week after week have gone by and I haven't noticed. Or actually, I did notice but I haven't figured out yet how to stop time and fit all I want to do in a 24 hour day. So here we are with those fibres, all spun into some singles.
First up I have this set of 4 different fibres:
cotton
,
silk+merino
,
bamboo
and
pure merino
which I dyed all with the same dye in a scarlet color but with 4 different results: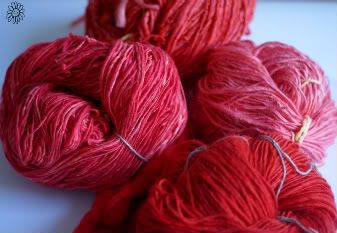 Clicking on the links above will give you individual pictures
.
The wooly ones I have used in felting projects for accents of lines and they work really well. Cotton, as far as I know, doesn't felt, but it's great for weaving, knitting, crochetting, etc.
Merino and Silk blends,
unique skeins
!
Caribbean waters
: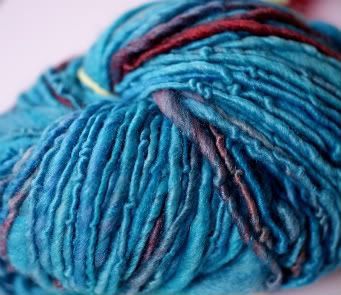 Purple Dusk
: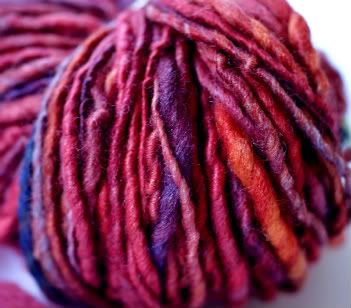 Spanish Spices: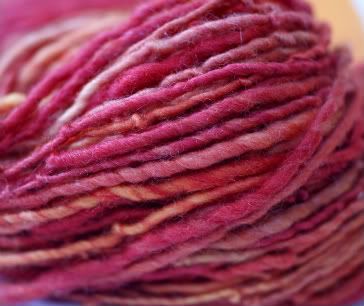 Mandarinas y Cerezas (Tangerines and Cherries):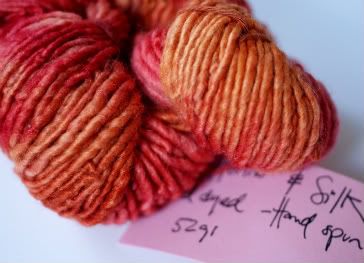 There are more to come that are already spun and ready to be transformed into something. These ones are all in my
DaWanda shop
now but remember that I do take private orders as well! Just contact me: info@florcita.eu
Remember to sign up for the
Give Away
of the three pendants next week. Which color next for the seed hand bags? So far turquoise seems to be leading the way... leave your comment
here
.
It' s movie time now!!!!