Hello all!
Besides felting and making ceramic goodies (running a house, biz, being a wife, mother, friend, volunteer...) I also take care of our 60m2 veggie garden. It' s actually a family venture and we are happy to say that every year (we are on our 4th year) we get more and better produce and a whole lot of knowledge. This year we' ve harvested tons of food: lettuce, spinach, beans (still today, more than 9kilos!), onions, garlic, carrots, pastinaak, tomatoes, aubergine/eggpplants, raspberries, strawberries, red currant, white currant, black currant, grapes, pears, courgettes, leak, aromatic herbs, broad beans, broccoli....and something more Im forgetting probably. We are now starting to gather the autumn fruits such as walnuts, apples and hazelnuts... and huge pumpkins! Our 2 freezers are FULL.
Many people say, " yeah well... lots of work! Lots of patience! I don' t have time, I don' t have room, knowledge...etc". We do have room because we bought this old house just because there was room enough for a garden. The knowledge we didn' t have but because we are slowly trying to turn to the eco/green path and do as much as we can to have a more self sustainable life; we've learnt. A bit of reading and a bit of empiric testing. And here we are, harvesting monster zuchinnis which in a shop cost fortunes... we harvest them by the bunch.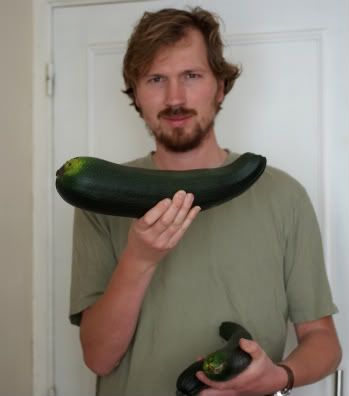 Anyway, for those of you who have always wanted to have a go at growing your own food but don' t have the room, or want to do it at a micro scale, this iniciative might provide info:
www.windowfarms.org
And if you are into a more self-sustainable life and feel like learning, discussing the subject and others :
www.forestoffood.wordpress.com
That blond guy up there, aka Mr Husband, writes it.
Last days today and tomorrow thursday to enter the
give away
! Leave your names in a comment on that
post
. Friday we announce the three winners!