I know... you' ve been biting your nails all day! I know! Did I win, did I win? haahhaa Sorry... it was a nice autumny day here so we went for a hike... glorious! had a lot of fun.
But here are the winners. Remember these 3 pendants were in the pot: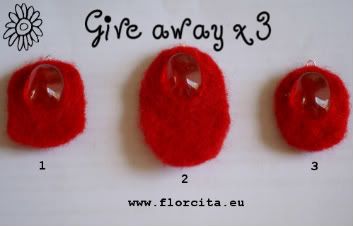 I made a list with the names of all that entered attaching a number in the "order of appereance":
1-Kim
2Julie
3-Alison
4-Monika
5-Heidi
6-Eveli
7-Mariel
8-Lily
9-Sil
10-Jen
11-Weird
12-Mitsy
13-Carla
14-Inger
15-Carolyn
16-Barbara
17-Christie
...and then used the randomizer from random.org and drew 3 numbers: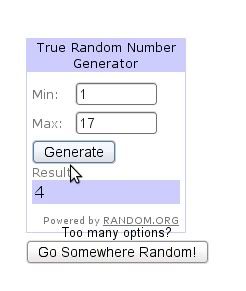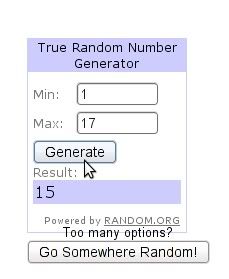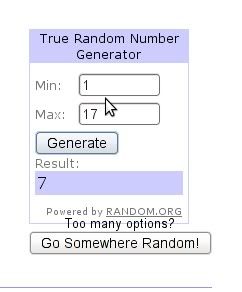 So... 4)
Monika
, 15)
Carolyn
and 7)
Mariel
Congrats!
You've won a pendant each!
Do contact me please through the contact button in my Website, with your address so I can send them to you as soon as possible!

To the rest, do not despare! More

Give aways

to come! Thanks for playing though... :)
A

FREE SHIPPING WEEK

for

certain

items is coming. Maybe it's an item you were thinking about purchasing? They will be announced on Monday! So, stay tunned.

Have a nice weekend!