A few months ago I received from Monika from
Red2White
a little package in return for a package with wooden and ceramic buttons I sent her. Among other goodies, she included a bag of 100gr of
logwood
(
Haematoxylum campechianum)
and
alum
. Coincidentaly, as if the universe was trying to tell me something, the next day I received a book called
"Colors from Nature - A dyer' s handbook"
from Jenny Dean, the book' s author and all around dyeing guru.
Months passed by before I got around to put it all to work. I read Jenny's book which comes with all sorts of recipes and instructions for safety, extracting color from dyestuff, preparing dyebaths and applying it as well as mordants and its percentages. And the recipes are separated by colour in case you thought this was too complicated.
So, I presoaked and mordated 100gr of merino, 100gr of cotton, 100gr of bamboo and 100 gr of a blend of silk and merino. I later added 2 t-shirts and a few pieces of cotton fabric and lace I had laying around.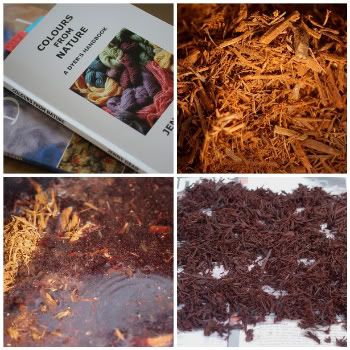 Clockwise: Jenny's book - logwood chips - logwood chips soaking - logwood chips dryingto be used another time...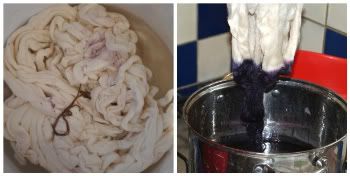 Left: fibres soaking. Right, first dip of merino into the dyebath.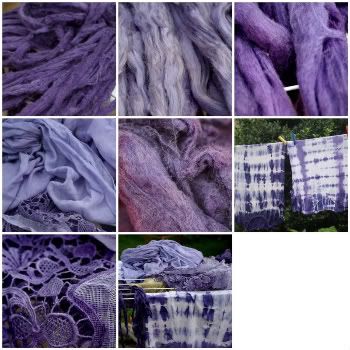 Clockwise: cotton, bamboo, merino, cotton fabric, merino + silk blend, t-shirts, some poly-something old curtain with lace and the last picture it' s the whole thing drying outside. On
my Flickr
you can see bigger pictures and the color in all it' s glory.
I was amazed at the depth of the color. I was expecting much lighter shades... but nope! Deep purple. I heard later from Jenny -when I emailed her half way through the whole thing- that logwood does bleed a lot and it takes a lot of rinsing before you stop seeing purple down your drain. However, as much as it was bleeding, the color on the fibres was and is still very strong. I didn' t care much for the merino and bamboo because their fate has been decided already and they shall be felted soon... I guess with all the water used in felting I will have a purple mess but it doesn' t necessarily have to be bad... I see an experiment aproaching! hahaha The cotton I will spin first even If I get purple fingers, and later rinse thoroughly. I find it easier to rinse once a fibre is spun.
I saved most of the dyebath and the purple water coming out of the fibres when I was rinsing them. According to Jenny' s book (did I mention she was the dyeing sensei...?) both dyebath and dyestuff can be stored for later use.
All these months reading books, blogs about dyeing. Talking to Monika and other fibre artists who are experimenting as well, I felt a bit daunted... overwhelmed. Words like Alum and dyebath and percentages scared me a bit. The safety aspect as well considering I don' t -yet- have a separate space where to try this, so its the family's kitchen.
I did realize that if one reads all the material, if one takes the time to "study" the moves and take simple precautions (like buying good, thick rubber gloves, having separate buckets, and cooking implements as well as putting some newspapers in case you are messy), it doesn' t have to be a difficult thing... and the results are marvellous.
One thing I keep repeating to whomever wants to hear me when we talk about natural dyeing is that when you go research about dyestuff you learn about a lot of things, not just colors: botanics, history, anthropology... you follow accounts of merchants in centuries past and learn about Europe' s trips around the world in search for the good stuff (like dyes and spices) as well as learning what people aroung the world were already using (and still do)... I find it fascinating to realize that those plants in the field which we all consider weeds, are actually plants that were used for dyes in the 16th century...
Anyway, if anybody is interested in giving natural dyeing a try, I suggest you get a hold of any of Jenny Dean' s
books
, or visit her
blog
and talk to her personally. She is incredibly kind with her knowledge. Never holds back.
And this is just the beginning....