Well, ones computer acting up and going on a strike is really not something one wants. How technology dependant we are! At least us at home.
While the technician tries to settle a deal with the bundle of chips and wires my laptop is; I go on working twice as much because I have more time with wool and less time in front of the screen!
It's been a while since I hosted a
give away
. It's not a demagogical move it's more of a
"being grateful and showing it
" move. It's not about how many sales, magazine/blog features and/or adulation I might receive. Naturally we all like those (especially the sales because they provide the cash for more supplies for more experiments and fun ...essential my dear Watson...); but this will be a give away to thank all of those who come here and comment a few lines every time I post something in an attempt to reach out to the big world out there. I don't want to get sappy (or silly) but you are my critics, my crafty support, knowledge source... and laughter fountain... many I've got to know outside the blog and into more friendly base via emails and it just makes ones world so much bigger to talk to people form different places and walks of life. Advantages of technology.
Anyway, without any (more) further blabla... here is the thing: You've all seen my -so far 7-
Lily Seed handbags
, all in my
DaWanda shop now
.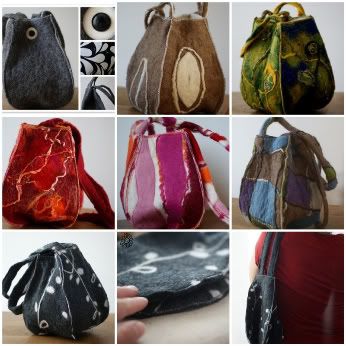 So, to
participate in this give away
, you just have
to leave a comment
on
this
post
telling me which is the next
color
-or combination of colors- you would like to see or think would fit this type of bag.
Next week
friday 18th
, we will draw 3 names from a hat...and each will get one of this little pendants...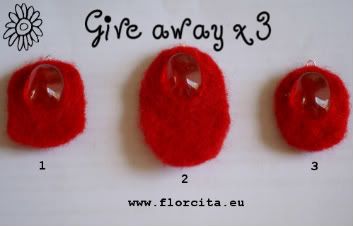 The bag resulting from this "collaboration" will also come with a surprise or two :) But that for later!
So...go on... which color is next?