It' s time for our Merry-go-round, and this month' s topic is:
"What's your next chapter"
... well, I have different length answers:
Short Version
: lots of projects. I've realized that, whether one goes through with projects or not, having them alone is a strong motivator for improving your own life and work. Lack of projects in your life I think sinks you in a bit of a grey desperation. Been there, not going back.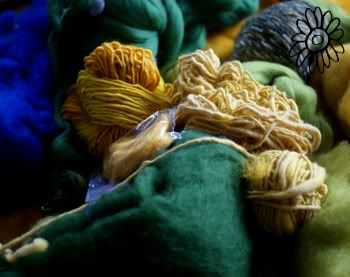 Long Version:

in the short term
, I'm leaving to Argentina in a month (as if you haven't read about that yet...). I'm not just going to sit around catching up with family and friends, laying on the beach and doing tourism. I'm going to be teaching, researching the world of wool and different autoctonous fibres over there (like guanaco and llama). Maybe catch a few (more) classes with my old weaving teacher, some stuff about writing books, and a lot of research about dyeing, weaving and design of the orginal peoples (yes, plural) that populated that area, Patagonia, before the europeans arrived. I'm very excited about it. I want to include more of the patterns and designs of the people from my land in my future work.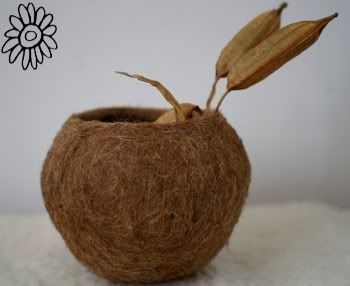 A middle- length term
ahahaha... while Im gone there will be some construction being done for a mini Studio for me, in the garden... with a big fireplace, thank you! I'm tired of moving around the house not ever having enough room for all my tools and materials. I also want to have my own place where I can put a ceramic oven because I'm tired of turning down people who want to buy ceramic pieces from me, but I have nowhere where to make them... I love clay. I've been claying (with more or less success) since I was 5... and I enjoy the combination of clay and wool. Very earthy and natural. I would also like to combine both a bit more.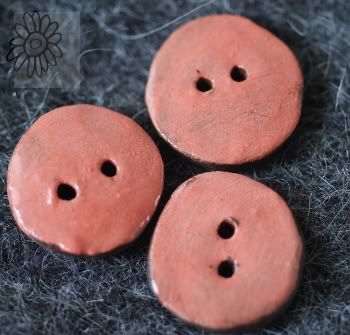 Long term
... well, world domination, obviously! What else? From my Studio/bunker I shall conquer the world of arts and crafts... no? :) Well, this past year I have discovered that the universe had a tricky way of telling me and pushing me down this path. However, this is really what I love doing. I'm happy. I have lots to learn and do... but Im on the right path, I think. I sometimes wish I had a partner in crime because I have loads of projects in my head and when you work on your own sometimes you get no feedback or incentivation...but, oh well... we'll see.
Do read the rest of the entries from the girls in this group. Interesting read Im sure.
Jenny at
Jenny Karlsson design
Wendren at
Wren
Sara at
Sara's Texture Crafts
Charlotte at
Fancy Picnic
Agathe at
Le Bar du Vent
Fabienne at
Easterya
Ruth at
Birdland Creation
Lily at
LilyPang Art and Design