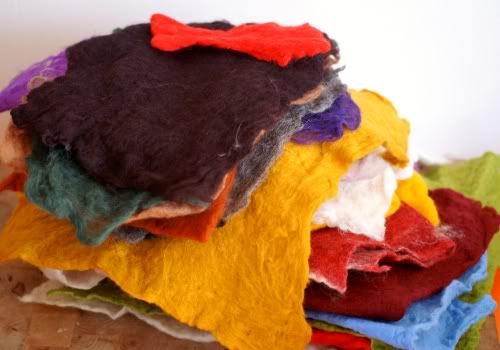 Prefelts
are pieces of felt which one can buy or, if you are not too lazy, make your self. The difference with the normal felt is that these sheets of felt aren't
fully
felted. They are ussually used by felters whom especialize in wall art, tapestry or rugs; or indeed any felted work with lots of intricate designs in different colors. The
advantage
of prefelt is that you can cut a figure out from your pre- felted sheet, and add it to your design which later gets fully felted with the rest of your work. It's not difficult to use them but it doesn take a bit of practice. However, they do simplify your job and allow you to do more intricate designs.
So, I had to make some for a few projects I have in mind, and also because it is always handy to have some in stock.
Technically speaking, the thickness of your prefelt, if you wish to make them yourself, should take an account the thickness of the finnal project you have in mind... you have to think that if it is too thick it will take longer to felt, or stick out; but if they are too thin they might get lost in the background color. I made this pile of about 3 thin layers of wool. Solid, bright colors.
And now to work!