This is a great idea. We all do it already! Charlotte from
Fancypicninc
was telling me how on saturdays she likes to do some "armchair shopping", as she calls it. Browse around etsy and mark a few goodies for later... for when we can break the piggy and endulge in some real shopping. So, she came up with the idea of making every saturday a list and share it with the rest of you. It is impossible for everyone to see and know every item in Etsy, or Dawanda for that matter. So this way we share our finds and who knows... maybe more people want to join in the fun??? *hint hint* This is open to everyone who wants to participate. It isnt difficult. You just have to post pictures of these finds and a link to their shop. We agreed on contacting the seller too to let them know that we've featured their product...kinda the nice thing to do.
(first time I do this and im having some trouble placing the collage itself...and blogger refuses to help, so... patience... :) If you click on the mosaic, it takes you to a bigger pic! )
Anyway... in honour of my favourite band, my first collage of goodies follows the theme "Green"
"Green is the colour"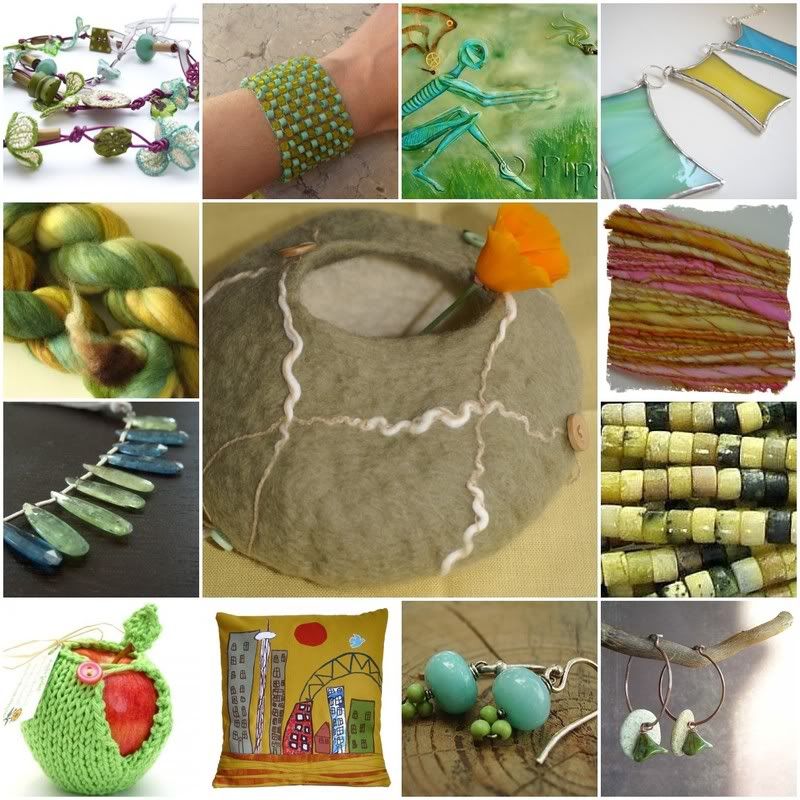 (from top to bottom-left to right)
1.
Mexican Garden Necklace by TortillaGirl at tortillagirl.etsy.com
2.
Tourqoise and Yellow Bracelet
3.
Pipyr ACEO Field study print
4.
Happy dance Stained glass Banner
5.
Country Road Roving
6.
Tulip designer Yarn
7.
Rustic green and blue Kyanite Faceted Spears
8.
Yellow Turquoise Heishi
9.
Apple jacket hand Knit green
10
.My city OOAK chushion cover
11.
Peruvian Amazonite Tiny Gaspeite Sterling..
. 12.
Deep sea treasury
13. (centre)
Button bowl
Do click on the links to go to the respective shops.
Tell me what you think... and...anybody know which band it is that has a song called like that?? Noooo, no googling!! :P
Have a nice weekend! lots of new goodies on Monday!!!!