Well, here we are again. Still dealing with the whole sinus thing, but...life goes on. Just with absolutely no fragrance, smells...good or bad. A world without perfumes... my nose is still numb.I couldn't take it anymore in bed, so I got up and cooked dinner yesterday. I almost killed the husband and the kid with an overdose of
samba
l*
. I didn't realize that just because
I
can't taste it -due to the nose thing- theyactually can. No, sambal is not gone bland. One spoon is enough...or even too much. They did taste it and didn't take it. Ended up eating fish and chips.
I was sent back to bed with no dinner.
But it is time to take a
look around Dawanda
... *applause* Watch your step, look out for puddles because it has been rainning here in Europe for weeks so...bring your paraplui/umbrella/paraguas.
PAPER GOODS
this week! a sketchbook is all I had in bed (the laptop was confiscated by my husband who lacks the "compasion for sick people" chip, apparently) and some crazy drawings came out. Must be the drugs... I was (am) on a peniciline trip.
Here we go:
First off a friend from Argentina, who often has to "read" me vent in a flow of free association emails. Very popular in Dawanda and in her own right, because her art is simply beautiful.
La Srta Pil
has introduced these past days a new line of products, gorgeous handmade, handpainted dolls with a papier mache body and beautiful delicate hand sewn clothes.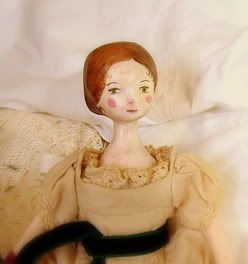 Next up is
Lilypang
, from Singapore. I always try to check her shop and blog because she produces the most gorgeous prints. The shapes and combination of colors always seem perfect to me. Although she has many prints and originals for sell, I love this
"
Mischievous and Passionate Print"
...fabulous woman!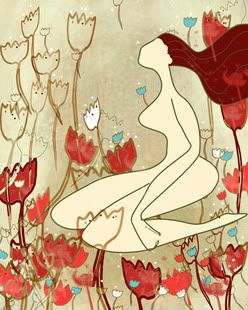 "Roasty the dragon"
comes from the
Stick Nymph shop
. I love all these stick faeries, cats and dragons, just beautiful!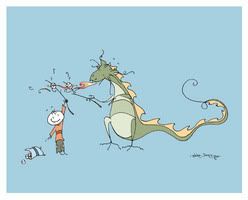 From
Studio Mela
comes this colorful, insightfull and fun print. I like the poster type art with short, consice and smart lines. Just to hang somewhere in your house where you walk by daily ...and on
those
days just right to give you the needed kick to get going...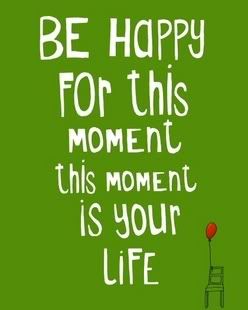 And last, but not least...
Inikasplayground
has some really cool little monsters and fun, colorful and super detailed illustrations. This little pic will probably not show much, but there is so much detail in the flowers! really worth taking a look...
And that is it... well, in my pinboard I have many more paper good entries but, can't put ' em all here!
Hope you liked it...
Now to blow my nose...
*sambal is a veeeeery spicy condiment from south east Asia. Came to The Netherlands via its colonies in Indonesia. It's basically -I think- chilly peppers and other peppers as well. Hot. Very hot.