I've been doing a lot of window shopping lately. Yesterday especially. I've been given full liberty to buy all the christmas shopping. Meaning, me...laptop...credit card in hand... and DaWanda and Etsy. Oh, and a cup of tea. :)
I've already started although, at the end of the shopping session, I had several purchases and all for me... hahah none for Christmas... this will be dangerous (for our financial situation!).
I contacted a few sellers yesterday and Im glad 85% of the people one gets in touch with, are always willing to respond your questions and go the extra mile for you. Naturally, people want to sell...you will say. Sure, but I've come accross people whom weren't as helpful and nice... Im just asking what the shipping costs will be not for you to come over here and deliver it! :)
Well, in this grey wintery day... here is a sample of a few of the things I found and reeeeeally like... hope it inspires you as well!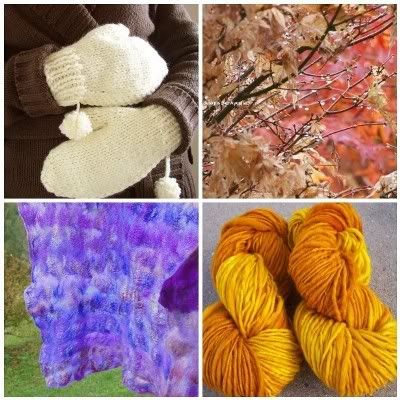 Clockwise:
-Pom Pom mittens from
Moocowhandknits
-Golden Tears original Photograph by
Simplycutedesigns
-Mustard Seed handspun yarn by the very sweet and helpful
knittydirtygirl
-Sheer silken luxury, felted wrap by the marvellous Inger at
Felt by Ingermaaike
Beautiful things!
Have you decided where will you be shopping this years christmas presents?
Oh, by the way! to see more Shopping lists, or join the fun, do check Charlotte's
blog
from
fancypicninc
.
(I always forget that last part...sorry! )
Have a nice weekend!