I've been following
Lily's
art for a while now. As a matter of fact, I think her
shop
was one of the first ones I saw on DaWanda . I like her use of colors and superimposed shapes and effects on her digital art, and I really really like how she works her watercolors... beautiful!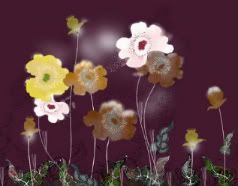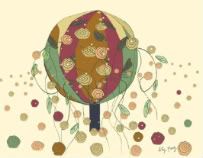 She is branching out now and along side prints and original art, she offers things like laptop skins in different sizes. When I saw those I also saw my chance and jumped to it. So I got myself a skin to protect our new laptop. You know when you have something new and you want it to last long all shiny and pretty... will not happen, I know, not with a 2yr old climbing on the chair and smashing the keyboard with sticky hands... but I will try to keep it looking good (for a few more weeks), so I got us an owl skint:
in the back there, a bit of my husband...
We are all really enjoying it and now of course my kid needs to sit and talk to the "Juju" (pronouce huhu... comes voegel: bird in dutch) and touch it, scratch it....abuse it basically! hahaha
Thanks Lily! I love your work! keep it up!
Hope you all like it too...
(this was going to be yet another christmas present but... just didnt make it until december in its box...)