Mrs Charlotte from
Fancypicnic
has been kind enough to bestow a prize on this humble blog. We thank thee! :)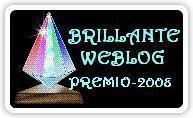 I am supposed to pass it on to another 6 blogs apparently... so here they are:
The Wren design
La Srta Pil
The Spotted Sparrow
HalfAnAcre
Lawatha's glass
The Vintage Chica

...and some more...just because

I want to

. There are more than 6 blogs that I think are "brillante"...

Edward and Lilly
Inside the Artisan
LilyPang Art
On My Perch
I always read these blogs even If I dont have time to comment on all. There are many more I visit and read (I have around 250 blogs in my bloglines... blogs in 3 different languages!) and with these prizes situations I always find it difficult to chose just a few.
If I wouldn't think they are great, interesting, fun blogs, I wouldn't even read them to begin with...
I hope you all take the time to discover them, some fine people behind those blogs.
Have a nice weekend!