After much anticipation, yesterday I finnally had my workshop on learning how to make glass beads. I was so excited...I really wanted to learn. I have always wanted to learn to work with glass but because of how expensive it is and also the fact that you need to have your own place -atelier- without kids running around or possibilities or burning/hurting someone...it gets difficult. I only got to learn the basics of making vitreaux and managed to make a small window in blues and red for the small bathroom.
But anyway, glass beads. This was a full day workshop at the same Atelier where I learn ceramics. Maud, my teacher, is a woman of many trades! She explained how things work, showed us how it was done, how your ellbows have to go, the glass, the mandrile (the metalic stick onto which the melting glass is rolled ti make a bead), the fire...and there I went. it is so difficult! I have a renewed respect for all those artisans that make beads! having a round, smooth bead requires lots of practise (more than a day). I guess like with many crafts, you have to get a fel of the materials. At the end of the day, after around15 beads, I managed a really nice round bead...sort of.
With the torch burning in front of you, and the noise it makes, you cant really chit chat with other people, so you are concentrated in your own work chossing colors and...trying not to drop melting hot red glass on your hand or get burned.
I liked also the surprise element... I guess this has to do with my newbie rank. When glass is red hot...it is like that...red.... regardless of the original color. Well, some don't get red...but most of them do. So you can add little dots and things here and there but if you dont remember well what you are doing, you can't really tell which color you used where...it's all red...
Anyway, really nice. I highly recommend a workshop like this...and here, my creations...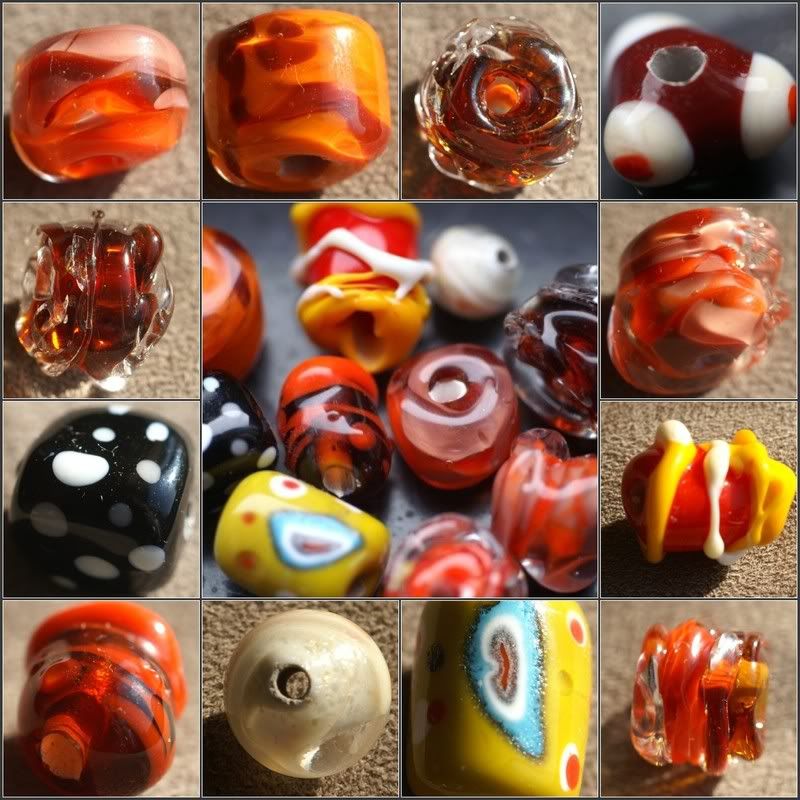 Now I wish I could have the money to invest in getting all the supplies and for an atelier or even small room where I could work... *sigh* Some day.