Hello all! Here we are again... I'm a bit late with this saturday's list basically because... errr... I hadn't realized it was saturday. Yeah, a bit lost.
Two more weeks or so and Im going back to my ceramics classes.

I can not wait

. I was looking forward to playing with clay this vacations but in fact I didnt manage to do one single piece. I didnt even take the clay out of it's bag. Sad. But instead I've been drawing and making lots of sketches that later become really difficult to understand and explain to my teacher. Imagine trying to explain this 3D object you want to make, starting off by this 2D poor sketch...do all that in another language! I can see my teacher's face already...

what?
Anyway, so my list today has to do with ceramics... things I've seen in Etsy and reaaaaaally like.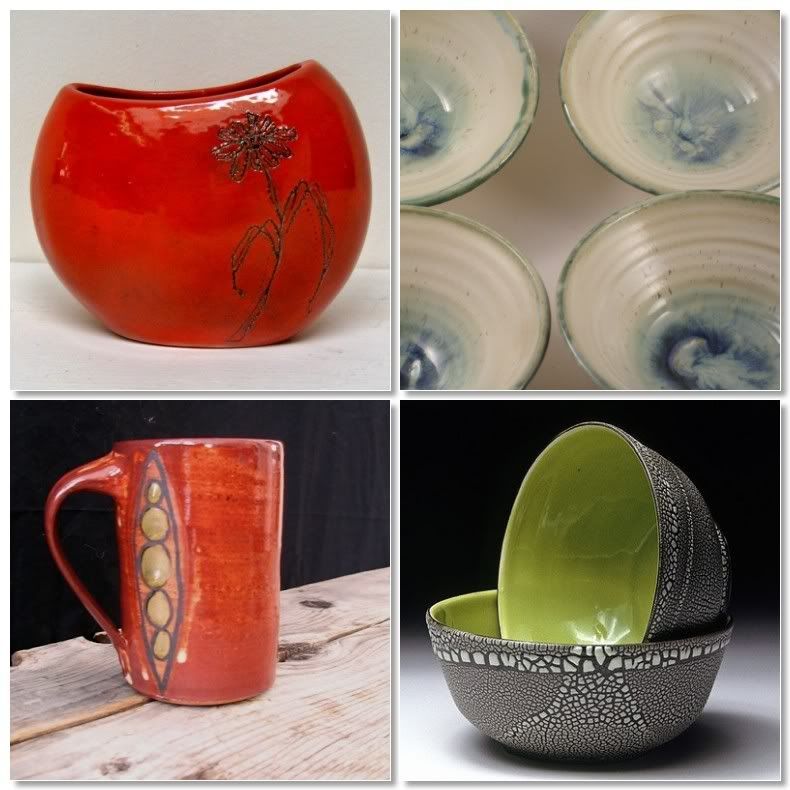 We have here... from top left:
Zsuzsi vase in persimmon orange by Oneblackbird
Cream and Green bowls by
Happylake
(I apologise for the fonts, going crazy again and I can not fix them... sorry!)
The colors and textures are fantastic! I really like these and their shops are packed with more beauties... It is naturally my taste, but I find it so special to sip my morning tea in a ceramic or porcelain cup, or eat from hand made bowls and plates... they just feel different. Maybe Im just a bit nostalgic for one of a kind pieces instead of cheap by the million exactly the same plates. Oh well...

That is for me for this week!
Remember to check Justinas blog On my perch today! Im front page and central! And sign up for the give away!!!!

Have a nice weekend!

Mariana