Hello everyone. I'm sorry I've been gone for so long. I had a wedding which took place last weekend in a castle... all very glamorous and chic. My husband and I, not very fond of grand displays of wealth, kept repeating ourselves "with the amount of money they are spending here this weekend, I would quit my job and travel and travel... ". Some people just rather have a majestic "most important day of their lives" (which is super ironic considering that according to statistics 45% of them will end up hating this day within the first 10 yrs of their marriage, and divorce...no, Im not a cynic. Just... saying).
:)
Anyway...but the thing is that we weren't that far away from the ocean, and yet we couldn't travel to it.
You see, I grew up by the ocean and now that I live inland, I miss it terrible. The big waves, swimming, walking, open spaces, black sand, sea lions looking above the waves to check on people, parrots, seagulls, whales, orcas and the rest. The good thing about living next to the ocean is that you get to eat lots of fish and sea food. YUM. So, I went looking for fishes in Dawanda...
...and i found, of cours,
Anna's
fishes in her
shop, HalfanAcre
: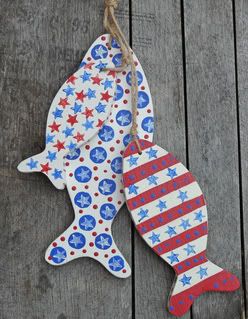 I really like these fishes. Colorful, great patterns on them and the colors are great. Vibrant...very summery. I would have included them in this summer thingy going on in Dawanda. They would definetely liven up any house indoors or outdoors.
Then I found, by
Glasprimitif
this great "Oriental Fish",
painted silk to bring you good luck
: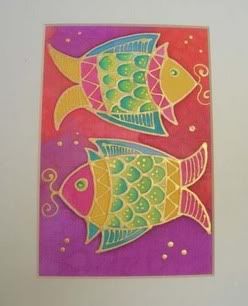 Fabulous colors again. I admire anyone who can paint on silk and have such great results. Did not work with me ...
In
Maggiejo's shop
I found this great set of pendant and earrings of enamelled copper.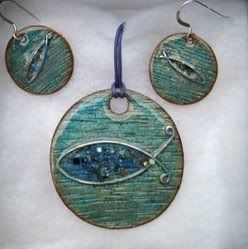 I just love the colors and the texture. I am so very intrigued about this technique. It's in my list of "to dos".
And last, but not least, from Portugal, a great pot stand in olive wood by
Alentejoazul
: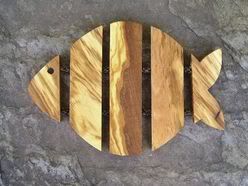 I love olive wood (olive oil, olives, the shadow of an olive tree, the memories of picking olives in summer...etc). The grain is so pretty and comes so much alive! This shop has great kitchen ware also in wood...
So, those are the fishes. What do you think?
Got any fishes to shop, want to put them up here in this post? send me a pic! The contact button is there on my website:
Florcita
It's monday so...have a nice week!