I've been working on several custom orders over the weekend. As time goes by and my departure day grows closer, I seem to get more work instead of aliviate the agenda. But I did manage to squeeze in making a bag just for myself. I never seem to keep anything I make...
Since red is my favorite colour -in case you hadn't heard :) I made a seed bag like those in
my shop
, all red with some tanseys designed in grey on top, lined with a fantastic red Harris Tweed. Simple, but just what the doctor ordered ....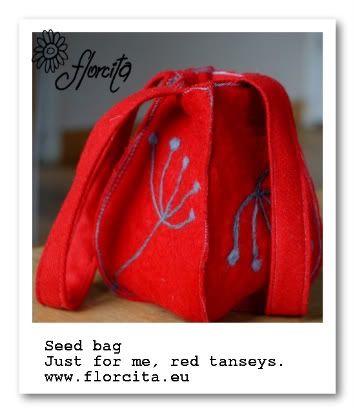 And here comes the big announcement:
All week this week there will be
FREE SHIPPING on all orders
.
*For orders via my
Dawanda shop
, just add:
"red tanseys"
on the note to seller while checking out (easier than having to go product per product changing the shipping costs...thanks!).
*Private order? you ask... well, checking out
my website
or shop you can see my work. You just have to drop me a line: info@florcita.eu saying what you wish and I will send you a money request via paypal. Simple.
It all comes wrapped with silk paper and with a nice
ceramic tag
included.
Hope everybody is doing alright!