I've been busy this weekend. All of a sudden everyone is celebrating their birthdays around here so we are jumping from party to party... which is fun.
I did manage to squeeze in some work and I tried this gorgeous merino Kap I recently bought. Soft and warm...but really really soft. I wanted to make something simple... a few flowers in a field... just white and red and some accents on grey. That's it. It ended up being way bigger than I thought it'd be and it's a mix I think between a warm wrap for you and a throw for home decoration.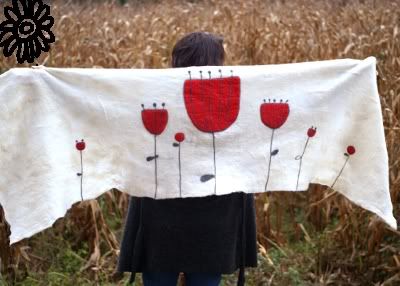 More pics here
.
On other news, DaWanda has a discount week which I am joining. So from today until Sunday,
there will be a 15% discount on all shops were you haven't purchased before
. The discount price is already set on the webpage so what you see is what you pay. If you've never purchased from me and were waiting for lower prices...well, here is your chance. And if you did purchase from me and you are looking for something... just contact me: info@florcita.eu Returning costumers are favorites :)
Anyway, another week comences... hope everyone is healthy and ready to roll :)
--------------------------------------------------------------------
The DaWanda "Wall Fall Sale" will run from Monday 19.10 at 12:00 CEST until Sunday, 25.10 at 23:59 CET.
In all participating shops (where products will be marked with a little flag icon),
in which you are shopping for the first time, you will receive a 15% Discount off the original price during the sale period!
The reduced price will be calculated and displayed during the order process, and in your shopping basket.
Please note
- the discount will only apply for your first purchase, so it's best to pack a few things into your shopping basket at once!
Have you told your friends about the Wall Fall Sale yet? New users receive a 15% discount on their first purchase in all participating shops!
-----------------------------------------------------------------------------------------------that's the official announcement.