I don' t know if you' ve heard already that this year, 2009, has been declared by the UN as the
International Year of Natural Fibres
. The goal here is to bring back attention to the 15 most used Natural fibres and their characteristics, and the fact that by supporting these fibres you are supporting some of the poorest farmers and herders in the world.
Those fibres
, such as wool, silk, mohair, alpaca, Angora, camel...etc, I use for felting and spinning. So they are very important in my work and by extension, daily life.
On adittion, 3rd October was named
"Day of Felt"
. On this day, feltmakers from all around the world will gather and produce a piece of handmade felt and later show it for their neighbourhood, town, city, family and friends to see, apreciate and learn about it.
Felt United
is an effort started and directed by Ellis Vermeule and Cynthia Reynolds, to gather, organize and expose felt pieces produced this day around the world. The idea is that on artisans will make a piece following a theme (color wheel portion: red, orange and yellow) and later submit it (pictures) to be exhibited in a multimedia library of woolly works.
So, I started working on the piece I am submitting, not thinking especifically on this day, but because this portion of the color wheel -red, orange and yellow- is one that I like very much using. Just another work I thought, and if it works out, I will submit it.
I gathered all my reds, oranges, yellows (a bit of pink and fuchsia too). Merino, silk, silk rods, bamboo, linen, locks. Hand dyed wool, hand spun yarn. A large piece of cotton fabric for the base and a whole lot of time... My idea was just to
pain
t with the whool. To build a huge piece of fabric with colors that merge into one and other. The starting piece was long and wide: 2,50m long by 80cm wide... ending up, after days of felting, at 1.90cm long x 50cm wide. It took a whole lot of felting. But the result is a very compact, even nuno felt with windows into the fabric, and on the wrong side (although both sides are worth showing) a myriad of waves made by the rouches and gatherings in the fabric, product of the fibres going through its weave with the felting motions. I find it beautiful and bright. It livens up the grey autumn sky.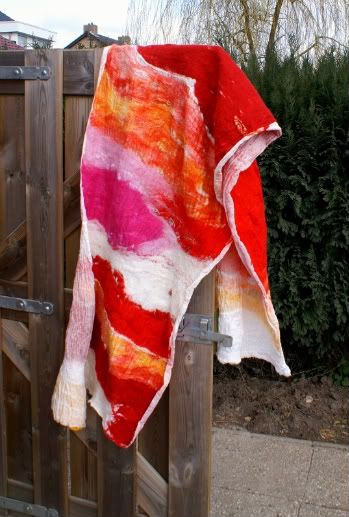 Some details: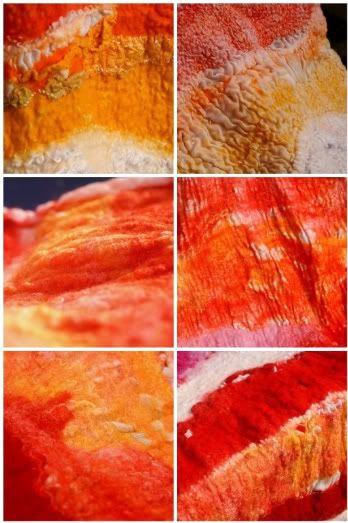 This is the best way I found to photograph it' s entirety: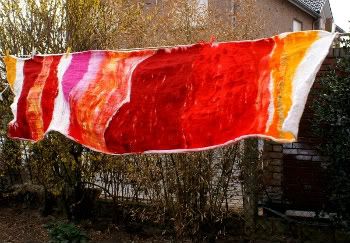 ...hanging from the clothes line...
It will make a fantastic warm yet light wrap for the coming months. Or a throw for the couch... While I was running around in the -already very sad looking- garden to take pictures, my neighbour followed me down the fence asking me how much it costed, if she could have it, what was it made of...and I got to tell the story, so I guess my part has been done. This one stays with me though...
Do visit those links up there: UN' s page on
Natural Fibres
. Lots to read and learn.
Felt United
' s page for a lot of interesting work from around the world.
Happy day Felters...