A few weeks ago I made this handbag in a grey coarse wool (steinschafwolle) which I made especifically to be HUGE. Not a middle sized bag... nono... HUGE. My 15" laptop fit in there. I felted the straps in by using some metallic props I had. So, all ready I used it a couple of times with great success and admiration (mwaahhahahaaaa...).
Looked like this: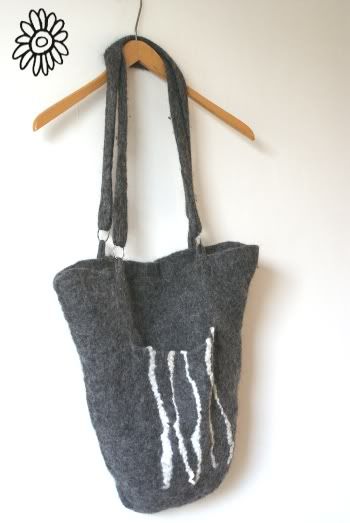 It' s hanging a bit croocked... I know. And there is not much to compare with when it comes to sizes. Maybe only the very trained
felting eye
can see the difference with the next set of pictures. The stripes are the outside of an embedded LARGE outside pocket.
What happened is that one day last week, I came home... it was raining outside, I had groceries... one of those messy days. I left my handbag on top of a pile of laundry in the laundry room where I took off my coat and shoes and kept going with groceries, kid, dog ...dinner... you know...the rest.
Next morning I was feeling a bit under the weather and my husband thought...
hmmm Im going to give her a hand...
Dread those moments, ladies! So he diligentely took everything out of my handbag -which was still hanging around the laundry room- and put it in the washer along with other clothes. When I heard the beeep beeeep beeeeeeep announcing that the washer was done I went and started to take things out and then I saw it... the bag... which had shrunk 1/3 of its size. We wash our clothes in a cold cycle always (green option)... but still... soap, friction and water (even cold water) kept felting the handbag. This particular wool felts very easily, so I ended up with a yet sturdier than before, compacted fibres...and a bit smaller handbag :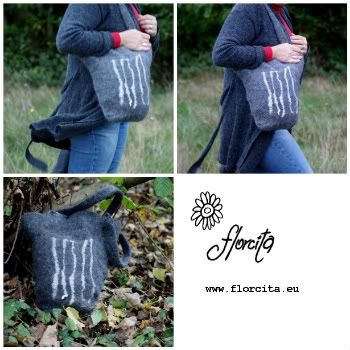 Laptop doesn' t fit in there anymore... but put a melon in there, handbag won' t break!
So, to those whom
aren't felters:
the same thing happens when you put a pure wool sweater in the washer... it shrinks... it felts. That is why, unless you want to pass it onto your kids, we wash wool by hand. Now, if you
are a felter
, and you got bored and tired and don' t feel like finishing the job (and don' t care to roll it up and continue later) throw it in the washer. Only (HUGE) disadvantage is that you can't control the process... so if it got croocked in the washer and it felts like that...it stays like that. And Im not to blame if a sock gets felted onto it... well, call it nuno felt!