Last week I presented in
this post
a group of wraps (for you) or throws (for your house) called
"Retazos"
, which in spanish means "Scraps". After listing them in my
shop
I was too tired from editing pictures, so I just added a mosaic here. Well, as there were some questions sent to me, I thought I would show some details of each.
1-
Purple Poppies in the Field
: I actually really like the pictures I took with this wrap. Not because of me modeling...ahahah nonono... but because we are in a pretty medow, a bit windy, with autumn light and horses in the back... nice mood.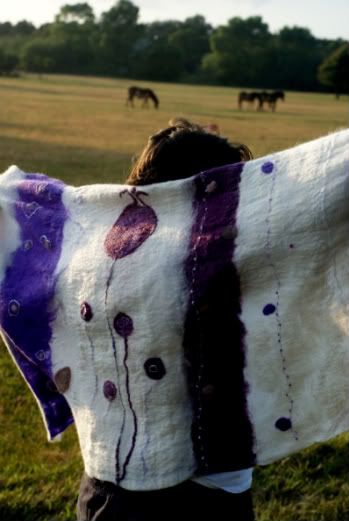 I used some hand spun yarn, different shades of purple, bamboo and a blend of hand dyed merino + silk for the poppies which make the flowers soft and with a little bit of a shimer. It is all wet felted which meant that I worked each piece of surface design with my fingers (and water and soap...).
2-
Wrapped in gold
: This one demanded lots more work (days) because I worked each individual square separately, and then felted them together. There are over 25 different pieces that make the whole wrap. It has an autumn palette with lots of browns, orange and a bit of gold...
I used merino, linen, bamboo, silk, silk rods, hand dyed and hand spun yarns, hand carded wool, prefelts I made myself, and even some stitching for decoration. A whooole lotta work. And I love it. But I can't keep everything, can I?... can I?
3-
Wrapped in Red Cherries
: Red, pink, fuchsia and white are the colors. For this one I had a different approach since I layed the whole design at once and then felted it (as opposed to working on each panel individually).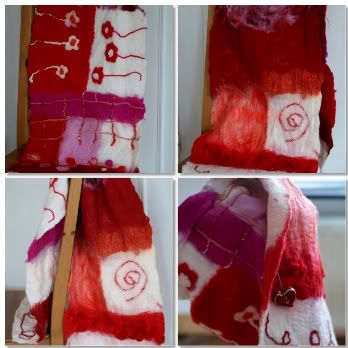 Again lots of different fibres: silk, wool, linen, hand spun and hand dyed yarn, bamboo, prefelt (made by me again), hand carded wool. If you see on the bottom right picture, there is a ceramic heart like
this
added as a pin (or better seen on this other simple
neckwarmer
in my
shop
, although this last one is much bigger), which comes as a gift if you order
this
wrap THIS week (which already has free shipping!).
*For all those felters that asked me if I used needle felting for the designs, the aswer is no. I rarely use needles in my felting. Sometimes for a small detail but I always do everything "by hand". However, needle felting is an option for whomever wants to use them.
*Prefelts
, which I use quite often when I want a
defined
shape on my design, I make myself ...and it is no science to do so. I wrote a post about it
here
.
*The use of
yarns
in felting is a good, simple addition which can bring a whole new texture to your piece. Felt provides a very
tactile experience
. I repeat that while working you have to
"look with your hands"
. Whether you use commercial yarns or your
own hand spun
, it doesn't matter. Just remember that the more "acrylic" the yarn has, the harder it will be to get "attached" to the wool you are felting. I always try to use yarns with at least 40% wool in them (and a blend with
bamboo
or
silk
if they are my own). But a whole world opens up for you because nowadays there are such gorgeous yarns out there in the shops.
Well, this is already too long. If there are more questions don't hesitate to ask in the comments or email me at info@florcita.eu I don't mind replying and sharing. I don't have secrets really, this is all the product of my own experimentation (which I always highly recommend... ).
Don't forget that this week there is
FREE SHIPPING FOR ALL ORDERS
, if you are looking for gifts... now is the time! Check out
this post
with more details if you rather a private order instead of using e-commerce platforms.
And now back to work...