I looove paper. On my last birthday I got a 100euro gift certificate for my favorite place in the town: a paper shop. Bought all that money in paper... handmade paper, recycled paper, colorful paper...whatever paper!
I love notebooks as well, especially hand made ones. Whenever I go on a trip, I come back with a new notebook. It can be a normal, not fancy at all one... one that kids use for school.. If I have never seen it before, and can't find it where i live...it gets purchased.
In Etsy you can find a whole lotta notebooks... and I want to buy them all... maybe for christmas!
Here a small selection: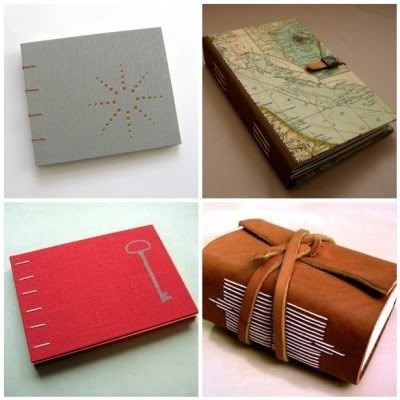 From top left, clockwise:
Paintedfishstudio,
Burst journal-celery
Suebleiweiss,
Vintage map and travel theme journal or notebook
Jovencio,
Latigo leather notebook
Paperiaarre,
I need some privacy (part 5)- coptic bound journal
Hope you like them and have a nice weekend!