It' s time for our Merry-go-round, and this month' s topic is Seasons...this season....
Summer.
"Summertime, and the livin' is easy... fish are jumping and the cotton is high..."
Well, there is no cotton around here but "livin is, indeed, easy". I' m going to fall again in a comparison between my life before and after I came to The Netherlands... sorry to bore you!
-Before I came here: I was lucky enough to live accross the street from a very clean and fresh river which carries waters for a thousand km, from up high in the Andes straight into the Atlantic ocean, only 30km away from our house. The
"Rio Negro"
was our playground in early summer, when we still had school. We would rush back, change into our swimmsuits, grab our canoe and barefoot run accross the street to go paddle around. Hours we would spend swimming there... and in the weekends we would wake up, grab some breakfast and just run accross the street. It was so comfortable to have such gorgeous large river right there in front of you. A luxury really.
By the time January came around (high summer in southern hemisphere), we would all move to the beach house which was designed especifically to host a large number of people. It' s a refuge from technology. No computers, no tv. Music comes from and old radio and an old turn table. And until cellphones became popular, no phone either. Books lay everywhere and you are encouraged to get up and go to the beach... and we would stay there until the late hours with friends and family... laying on the sand, walking, following waves for hours now as grown ups as we did when we were kids. Summer means
total relax
, taking it easy... socializing, dancing, dinner parties organized that same day on the beach... staying out late with friends until the sun comes up and you walk home barefoot, tired but happy...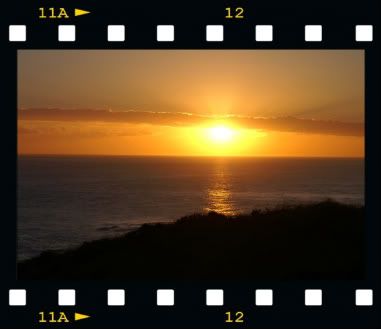 -FFWD to my summers in The Netherlands. For starters it doesn' t last 3 or 4 months but more like... a few weeks. I grew up so used to week after week of 30-40C that it took me some time to understand that summer in northern Europe... you don' t blink or you missed it! And there is not such a thing as total relax. Because the weather is so bleak and wet the rest of the year, in summer people rush to do all those projects they can't do the rest of the year. Fix the house, for example. Every spare minute is used in doing something productive... there is not much laying around yawning and walking in slow motion! I' m still in the process of adapting to this way of thinking. I see sun and just want to go outside and relax. My husband, on the contrary, runs around sweating, hammer in hand fixing stuff.
The very postive thing of summer now is that this is the season when we start harvesting lots of yummies from our veggie garden: berries, tomatoes, zuchinni, aubergines, beans, lettuce, rucula, spinach, carrots,peppers...and so much more. I think I apreciate summer more here and now than I used to do before. It' s shorter and, as with all those things that come in small rations, you try to prolongue it's taste.
*photos are both mine. Top photograph taken 3 yrs ago, last time I went to Argentina, of a sunset over the Atlantic. Bottom picture was taken this summer in Noord Holland on vacations...swans and an old ship. No retouches...just framing.
Please do visit the rest of the girls who take part in this Mery-go-round:
Jenny at
Jenny Karlsson design
Wendren at
Wren
Sara at
Sara's Texture Crafts
Charlotte at
Fancy Picnic
Agathe at
Le Bar du Vent
Fabienne at
Easterya
Ruth at
Birdland Creation
Lily at
LilyPang Art and Design