Someone asked me, when I was introducing the
Charcoal Gray Seed Handbag
and the
Natural Seed Handbag
, where was the colour. I' m known for my very colorful creations... well... fear not. Here it is: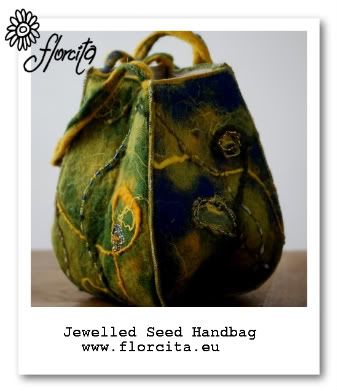 This "Jewelled Seed hand bag" was also hand felted with merino wool in different colors: yellow, green, blue. To create the sumptuous surface design, hand dyed and hand spun yarn (by mio) was used; as well as linen fibres and bamboo. The finnal touch, beads hand sewn around the bag creating pockets of sparkles!
It is linned with white, plain cotton fabric.
It has two handles which, as with the other handbags, are hand felted and machine sewn to create a bit of an irregular coil... more organic.


It's already in my shop where you can also see more pictures of the details of this Jewelled Seed Handbag.
It is customizable, of course. You just have to contact me: www.florcita.eu