I have a friend who is a graphic designer...and a bit crazy. We were talking a few days ago about colors and how I coordinate my colors and she confessed that sometimes, when she has to get dressed in the morning and is a bit lost for choices...she uses an online palette generator to decide which matching colors she will wear in that day.... I know... not normal! hahaha
But, intrigued, I thought I give it a go...
I tried with a picture of the
Natural Seed Handbag
:
DeGraeve
, the link my friend gave me and I go this: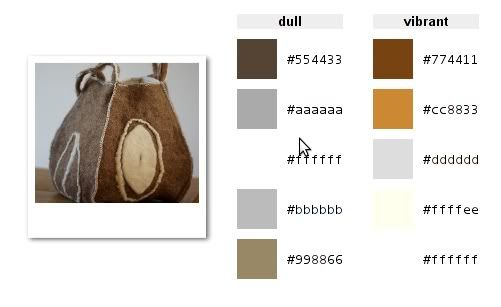 I then tried the palette generator I already knew, from
FlickrToys
: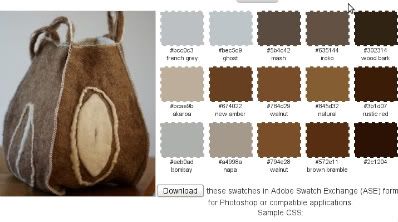 Second one gives lots more choices but I had to resize the picture to fit it here and the names aren' t that legible, are they? Well, but the swatches you can see.
I really like this toy! I don' t think I will be deciding my daily outfit with it, but it could come in handy for my creations!
Give it a go!