freshlybakedbread
Originally uploaded by Marian Florcita
Run out of bread this weekend. How could that happen, you ask... dunno. Life? :)
But we needed bread so I looked around in my culinary books, internet...to finnally end up calling my grandma (it was 8am down in Argentina) who said : "nena, muy fácil!" girl, very easy (as if she was telling me how to scratch my belly...eeeeasy!):

500gr of flour (I just used a common one I had home...)
salt, sugar and pepper.... a pinch of each (or "a gusto..." to your own taste)
3 soup spoons of olive oil
3 dl of lukewarm water
10gr of dry yeast

On a clean surface you put the flour, make a hole in the centre and add the dry ingredients (salt, pepper, yeast). If you want to add seeds, nuts and things like that, add them now too.
Mix it all up, make the hole in the centre again and start adding the liquids, slowly as you mix with your clean hands. You are supposed to make a ball with it. Not too dry not too sticky. If it is too sticky, add more flour. If it is too dry...add more liquids.
Put it on a bowl covered with a kitchen cloth and let it rest for at least 30 minutes in a warm place (sunny window sill, next to an oven...). It has to double it's size.
Then you cut that into 4 medium size breads or smaller ones or you just leave it as a big one. Put it in a medium oven (180C) for 15-20 minutes or until it has a nice color on top.


Take it out and even though you will burn your hands, slice it up, put on some cheese or home made garlic mayo, or strawberry jam... or just like that... EAT!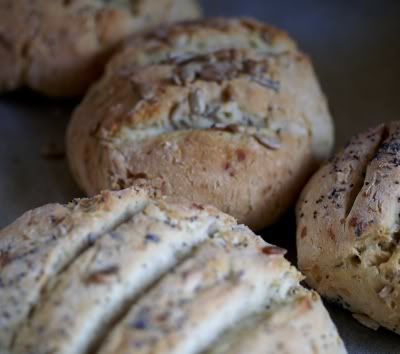 We ate it for lunch, sitting outside, with a nice dish we like to call : "put every veggie we have in the fridge in the wok and add salt and pepper, olive oil.. saute and then eat". Ahhhh the good life! Fantastic!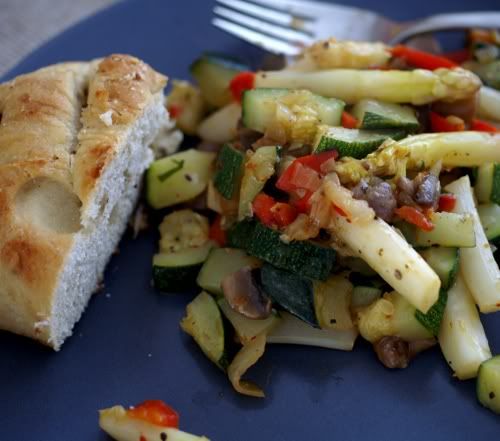 Asparagus, champignon, tomatoes, onion, spring onion, courgette, paprika, oregano, red pepper...

Happy monday!