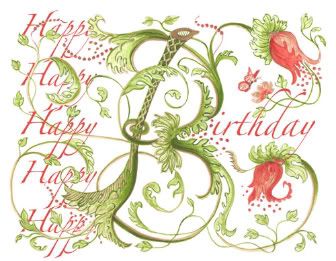 It's my birthday!!! 33 yrs old! WOW! Remember when you were a kid and thought that by 33 you were going to be a serious, well adjusted, busy adult?? Good thing I didn't turn into that! HA!
I must have gone a long way considering that today I'm seriously looking forward to celebrating my birthday. Years ago I wasn't so keen on it. I'm still partial on surprise birthday parties which save us, the birthday people, from spending the whole day cooking and baking for guests...but nonetheless...joy.
My husband and son gave me for my birthday a spinning wheel with a detachatble thingy on top for winding the spun wool, two carding brushes and 4 kilos of wool. YIPIIIIEEEEEEEE! Me happy. A few days ago, for mother's day, I got a pasta maker so I guess I will be busy in the coming days...months.
Without getting too sentimental, I must say that, looking back, I've had a great life and I am today happier than ever. I'm looking forward to this "new year". I just need an adventure now to shake the dust of the comfortable, safe and stable burgeois life I lead....hmmmmm........ideas?
Happy birthday me! :)